Na? Sind an Lichtmeß endlich die letzten Weihnachtsbäume entsorgt worden? Sind die Sinne wieder frei für neue Festivitäten? Hier das Ergebnis des diesjährigen Orakels von Punxsutawney Phil: Weitere sechs Wochen Winter… Wir sprechen uns dann an Ostern wieder…
Das ist er übrigens:
AKA:

Seer of Seers
Prognosticator of Prognosticators
Weather Predictor Extroidinaire
National Treasure
Most Photographed Pennsylvanian
Weather Philosophy: Phil has been predicting weather for over 120 years. He is accurate 100% of the time. Only the president of the inner circle talks with Phil and they usually keep their conversations on simpler topics.
Favorite Drink: Need you ask: the elixir of life. It gets Phil 7 years of life. Forget what it tastes like, the end result is pretty amazing.
On Feb 3, I'll be busy: getting rest. It takes a lot of energy greeting the many faithful followers that come to Punxsutawney. Phil gets a lot of help from the members of the Inner Circle, but everyone is pretty tired by the end of the day on February 2.
On Groundhog Day Eve you can find me: resting, resting, resting.
If you want the inside scoop on the Inner Circle: Phil considers them like family. They do a good job of fielding questions and making sure I am protected and cherished. I guess you could say they are a heck of a posse.
To really experience Groundhog Day you have to: Believe. After all meteorologists are correct about 70% of the time. Phil is always right. To quote George Michael: You gotta have faith. Groundhog Day is growing every year because it has heart and soul. Come, meet strangers, sing, shiver and drink caffeine. It's the best all night party in Pennsylvania.
Noch einiges Wissenswerte über die possierlichen Tierchen:
The average groundhog is 20 inches long and normally weighs from 12 to 15 pounds. Punxsutawney Phil weighs about 20 pounds and is 22 inches long.
Groundhogs are covered with coarse grayish hairs (fur) tipped with brown or sometimes dull red. They have short ears, a short tail, short legs, and are surprisingly quick. Their jaws are exceptionally strong.
A groundhog's diet consists of lots of greens, fruits, and vegetables and very little water. Most of their liquids come from dewy leaves.
A groundhog can whistle when it is alarmed. Groundhogs also whistle in the spring when they begin courting.
Insects do not bother groundhogs and germs pretty much leave them alone. They are resistant to the plagues that periodically wipe out large numbers of wild animals. One reason for this is their cleanliness.
Groundhogs are one of the few animals that really hibernate. Hibernation is not just a deep sleep. It is actually a deep coma, where the body temperature drops to a few degrees above freezing, the heart barely beats, the blood scarcely flows, and breathing nearly stops.
Young Groundhogs are usually born in mid-April or May, and by July they are able to go out on their own. The size of the litter is 4 to 9. A baby groundhog is called a kit or a cub.
A groundhog's life span is normally 6 to 8 years. Phil receives a drink of a magical punch every summer during the annual Groundhog Picnic, which gives him 7 more years of life.
Und hier noch die Geschichte hinter der Geschichte
Wer in den Neunzigern regelmäßig im Kino war, erinnert sich vielleicht noch an den Film "Und täglich grüßt das Murmeltier" mit Bill Murray und Andie MacDowell. Nun, wer sich an Frau MacDowells schauspielerische Gehversuche nicht erinnern kann, dem sei von Herzen gratuliert. Als alterndes Kosmetikmodel ist sie mir persönlich lieber… Aber wie auch immer, das Murmeltier, auf Englisch "groundhog", spielt am 2. Februar jeden Jahres eine ganz wesentliche, wenn auch auf brutale Weise unfreiwillige Rolle in der US-amerikanischen und kanadischen "Kultur". Und jetzt kommt´s! Das Ganze läßt sich nämlich erklären:
Am 2. Februar, der zum vierzigsten Tag nach Weihnachten erklärt wurde (ich hab nicht nachgezählt), wird in einigen christlichen Konfessionen Maria Lichtmeß gefeiert. Das hat im weitesten Sinn mit den heidnischen Ritualen unserer Vorväter zur Wintersonnenwende zu tun. Für Details wende man sich bitte an den Theologen seines Vertrauens. Wichtig ist, es gibt, wie zu vielen christlichen Festen, auch hier eine Wetterregel, die folgendermaßen lautet:
"Ist's an Lichtmeß hell und rein,
wird´s ein langer Winter sein.
Wenn es aber stürmt und schneit,
ist der Frühling nicht mehr weit."
Ich hätte mir ja sehr gewünscht, daß es heute stürmt und schneit, denn mir reicht es langsam mit dem Schnee und Eis.
So geht es auch vielen Amerikanern. Sie gehen bloß nicht in die Kirche, um den Tag zu begehen, sondern sind mal wieder im Freien unterwegs (sie sind "outdoorsy persons", jedenfalls wenn es was zu feiern gibt…). Also wird seit 1887 in Punxsutawney, Pennsylvania am 2. Februar ein unschuldig vor sich hinschlummerndes Waldmurmeltier namens Punxsutawney Phil unsanft geweckt, um es aus seinem Bau zu locken. Das Ganze wird gerne mit Hilfe einer ohrenbetäubenden Brassband bewerkstelligt (ob Blasinstrumente silbern sein sollten, ist sicher Geschmackssache. Die Entscheidung darüber ist, ähnlich wie die über Andie Mc Dowell´s Talent, jedem selbst überlassen. Laut sind sie allemal…). Die Tradition des "Groundhog Day" besagt, daß der Winter weitere sechs Wochen dauert, sollte Punxsutawney Phil ob des schönen Wetters seinen Schatten sehen können. Ist der Himmel aber bedeckt und Punxsutawney Phil somit nicht in der Lage, seinen Schatten zu sehen, dann ist der Frühling nicht mehr weit. Ein Tagebucheintrag eines Zeugen aus dem Jahr 1841 zu diesem Phänomen klingt ganz ähnlich wie die Wetterregel zu Lichtmeß (Candlemas):
"Last Tuesday, the 2nd, was Candlemas day, the day on which the Groundhog peeps out of his winter quarters and if he sees his shadow he pops back for another six weeks nap, but if the day be cloudy he remains out, as the weather is to be moderate."
Lacht nicht, das Ganze ist angeblich von Deutschen erfunden worden. Also immer schön an die eigene Nase fassen! Daß die Amis daraus dieses Rambazamba machen, konnten die deutschen Siedler natürlich nicht voraussehen.
Laut wikipedia sah Punxsutawney Phil in den letzten 119 Jahren 96-mal seinen Schatten, 14-mal war das nicht der Fall – zuletzt 2008 (aus 9 Jahren liegen keine Aufzeichnungen mehr vor). Vielleicht sollte man die Statistik nicht nur erstellen, sondern sie auch zugunsten des ungestörten Schlafes von Punxsutawney Phil richtig interpretieren und ihn sechs Wochen später nach seiner Meinung fragen? Armer Kerl. Ich bin auch nicht in der Lage, meinen Schatten zu sehen, wenn ich zur Unzeit geweckt werde. Aber kein Erbarmen mit Punxsutawney Phil! Außer er wird ob der Klimaerwärmung arbeitslos…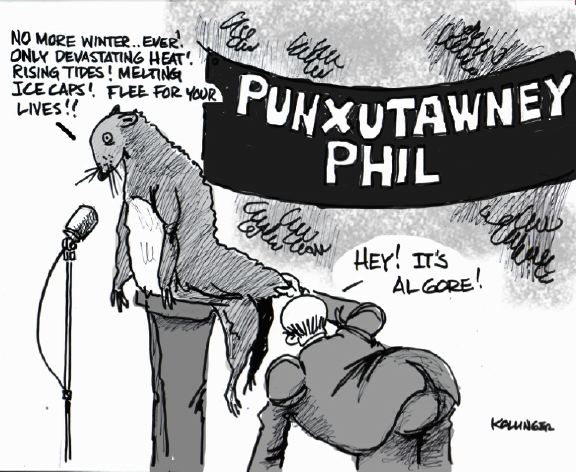 Die Vorhersage für diesen Winter fiel jedenfalls noch entsprechend Punxsutawney Phils schlechter Laune aus: Zieht Euch warrrrrrrm an!
Greetings from Punxsutawney!
Phil Says Six More Weeks!

Phil's official forecast as read February 2nd, 2009 at sunrise at Gobbler's Knob:

Hear Ye Hear Ye

On Gobbler's Knob this glorious Groundhog Day, February 2nd, 2009

Punxsutawney Phil, Seer of Seers, Prognosticator of all Prognosticators

Awoke to the call of President Bill Cooper

And greeted his handlers, Ben Hughes and John Griffiths

After casting a joyful eye towards thousands of his faithful followers,

Phil proclaimed that his beloved Pittsburgh Steelers were World Champions one more time

And a bright sky above me

Showed my shadow beside me.

So 6 more weeks of winter it will be.